When an aging pool dehumidifier stopped working at one of America's top hotels, it was clear that a replacement was needed quickly to minimize downtime and keep guests happy. Concern was raised when contractors told the hotel that walls would need to be taken down in order to replace the unit. That was not a viable option.
Instead, our client got an opinion from another contractor, a partner of the National Accounts division of Dehumidified Air Solutions, who quickly devised a desirable alternative. After visiting the site, they demonstrated to the pool owner how they could perform the replacement work without demolition — and quoted a much more affordable cost to do so as well.
A Simple, Quick Changeout
The new Seresco NE Compact dehumidifier was quick to install. After the old unit was dismantled and removed, the NE was easily placed into the mechanical room because of its very small footprint (designed for tight mechanical rooms)! The new unit was a perfect fit and included expertly measured duct takeoffs and a tidy copper line set for the new outdoor condenser.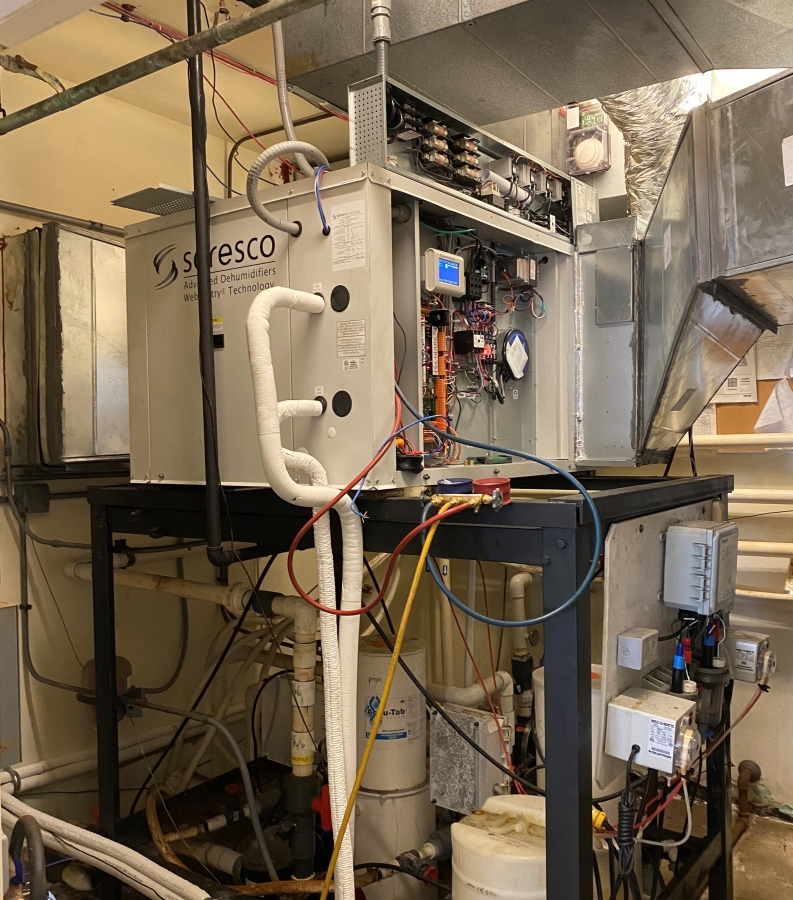 With our Preferred Partner's experience, the whole installation, start-up and commissioning took only two days and required little downtime. Installed on day one, it was then started-up the next day and optimized. The unit was also connected to Seresco's free WebSentry Internet connection platform for a lifetime of complete access to all operating parameters and logs from a smart phone or computer by authorized users.
National Account members can opt to purchase support for the first year by a factory technician rather than the installing contractor. This means the equipment is being monitored and supported by a team of dedicated factory technicians to ensure the most timely and effective care possible. Our technicians are trained experts, so members know they are getting the best possible service. Thanks to WebSentry Internet Monitoring, our technicians can access a unit's operating history when a call is made for support, to help diagnose an issue as quickly as possible.
Expert Installation, Every Time
Indoor pool dehumidification equipment needs a certain level of expertise to ensure smooth operation and a comfortable pool environment. This is especially true for hotels, where the pool is a key amenity that can influence a potential guests' decision on which hotel they will stay at. A poor guest experience at the pool can easily result in a negative review, so it's clearly in everybody's best interest to have high-quality equipment that is properly installed and fully functioning.
With the Dehumidified Air Solutions National Accounts Program, equipment from the leading brands in dehumidification are available and can be installed by a qualified Preferred Partner mechanical contractor. This means hotels across North America get the latest and greatest in dehumidification equipment, installed by a knowledgeable contractor at the best price. Preferred Partners under the National Accounts program have completed many installations with the equipment line and know exactly what to expect with every job, so installation quotes are competitive with no "contingency" cushioning. We also have financing partners who can affordably cover the upfront costs of your entire project to ensure you have the best system in place at your facility from day one.
With National Accounts you get one point of contact for a turnkey dehumidification equipment solution that is every bit as successful and efficient as the changeout at this particular hotel.