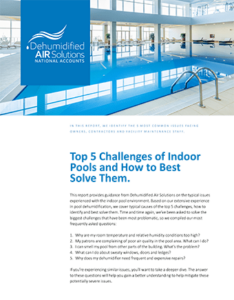 If you can answer 'Yes' to any of the following issues, you'll find this resource informative to help solve them.
Are your room temperature and relative humidity conditions too high?
Are patrons complaining of poor air quality in the pool area?
Can you smell your pool from other parts of the building?
Do you have sweaty windows, doors and ledges?
Does your dehumidifier need frequent and expensive repairs?
A must-read for indoor pool owners and operators of hotels, athletic facilities and swim schools.
The National Accounts team of Dehumidified Air Solutions provides expertise and best in class equipment, service and after-sales support for Seresco, Dectron and PoolPak dehumidifier brands. Membership is specifically designed for athletic facilities and hotel operators who operate multiple locations across North America. Learn more about membership. Contact us at nationalaccounts@dehumidifiedairsolutions.com