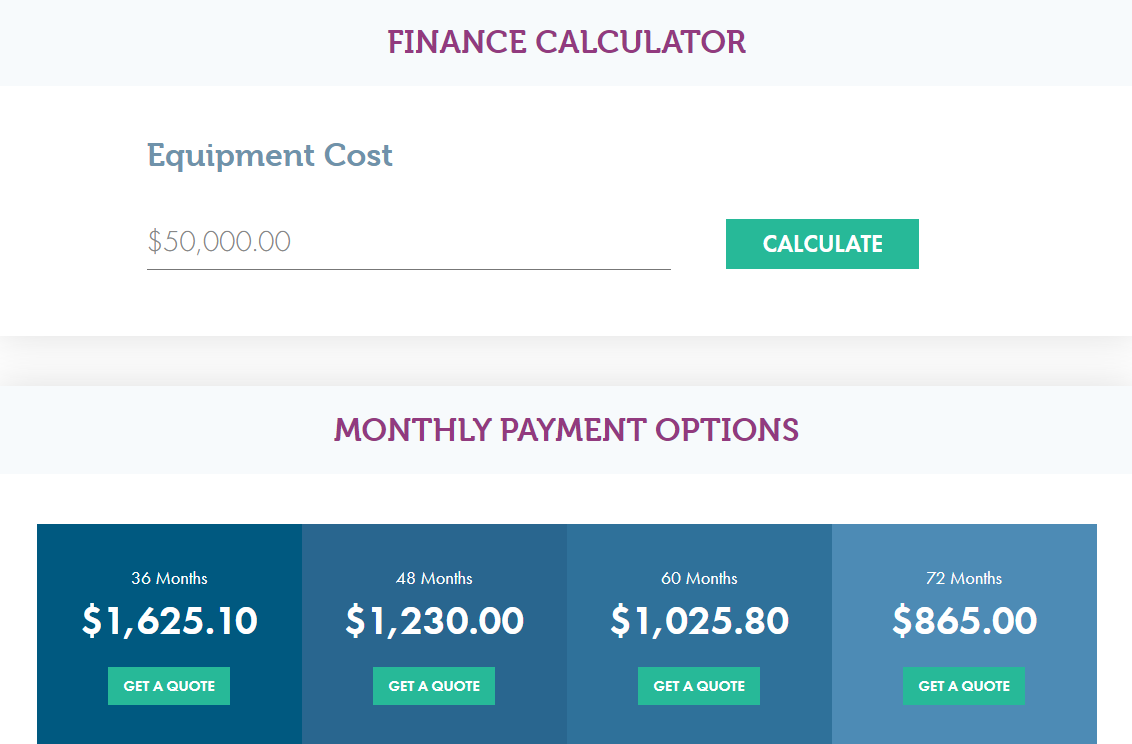 These unprecedented times call for creative ways to ensure your indoor pool dehumidifier operates at peak performance, protecting your indoor pool environment. That's why Dehumidified Air Solutions National Accounts has a partner to offer 100% financing options for your equipment purchase.
Financing Calculator
NewLane Finance has provided a convenient equipment financing calculator to quickly calculate monthly payment options.
Why Financing?
Financing is a new option to help you ease the financial challenge of replacing old equipment or beginning new projects that require indoor pool dehumidification solutions.
There are many reasons why financing could be a good choice for you: If you urgently require a replacement of failed equipment, you may wish to minimize your capital expenditure during uncertain times, or prefer affordable payments over time instead of a large, one-time capital cost. Whatever your needs or preferences may be, financing gives you options. Financing is available for just the dehumidifier, or you can apply to get financing for your full mechanical if desired.
Financing with our partners is fast, because your business deserves priority. Application decisions are typically made in under two hours and funds are wired same-day. This means administration for your project is simpler because, once agreements are signed, all parties are funded quickly and easily.
Are You Replacing Failing Equipment?
Financing can help you get up and running quickly. If an existing dehumidifier is causing significant repair costs or has failed, it is time for a new system. If that decision is being delayed because replacing dehumidification equipment poses a significant capital investment, we have your solution.
Ease the Financial Burden
Financing options can give you the flexibility you want with the speed you need, with a simple application process and decisions typically in under two hours. Funds are wired directly to parties providing goods and services. The result? You get your hotel pool back up and running to minimize downtime and asset damage, and to keep guests coming back.
Financing allows you to:
Get back up and running right away.
Eliminate upfront capital costs of equipment and installation.
Make affordable payments over time.
Take advantage of IRS Section 179 to deduct the complete cost of equipment, and 100% of its depreciated value, the same year of purchase.
Pay for full installation costs and service contracts.
Providing Options
Speak to a member of our National Accounts team about how our turnkey financing and installation partners can help you. We'd love to discuss your unique pool environment and conditions and recommend a financing company to provide you options.
Email us: nationalaccounts@dehumidifiedairsolutions.com
Call us: 1-833-DAS-HVAC (1-833-327-4822)
The National Accounts Program from Dehumidified Air Solutions offers indoor pool owners of hotels, athletic facilities and swim schools exclusive membership benefits for dehumidification equipment, parts and service.